Smith's famous 1815 map, A delineation of the strata of England and Wales, with part of Scotland exists in at least six main variants in five series as recognized by Eyles and Eyles (1938), based on changes to the geology, colouring and topographic detail. These include an early issue unnumbered first series (Series I); an early issue second series numbered 1 to 100 (Series II); another, mostly second issue third series, numbered a1 to a100 (Series III); a third issue, numbered b1 to b75 or possibly to b100 (Series IV); and a late unnumbered series (Series V). The early and late unnumbered maps are not signed by Smith, while the numbered issues are usually signed. Hybrid Series IV–V maps are also known.
Although the map carries a date of 1st August 1815, at least some of the early issue Series I maps may have been issued before this date. However, most maps were not issued until after 2nd November 1815, when Smith began signing and numbering his maps.
Smith's Memoir lists 410 subscribers for 414 copies of his 1815 map, although not all subscribers took their copies and some maps went to non-subscribers. It seems likely, though, that no more than 275–300 numbered copies and perhaps twenty or so copies each of the unnumbered early and late issues were produced.
Printing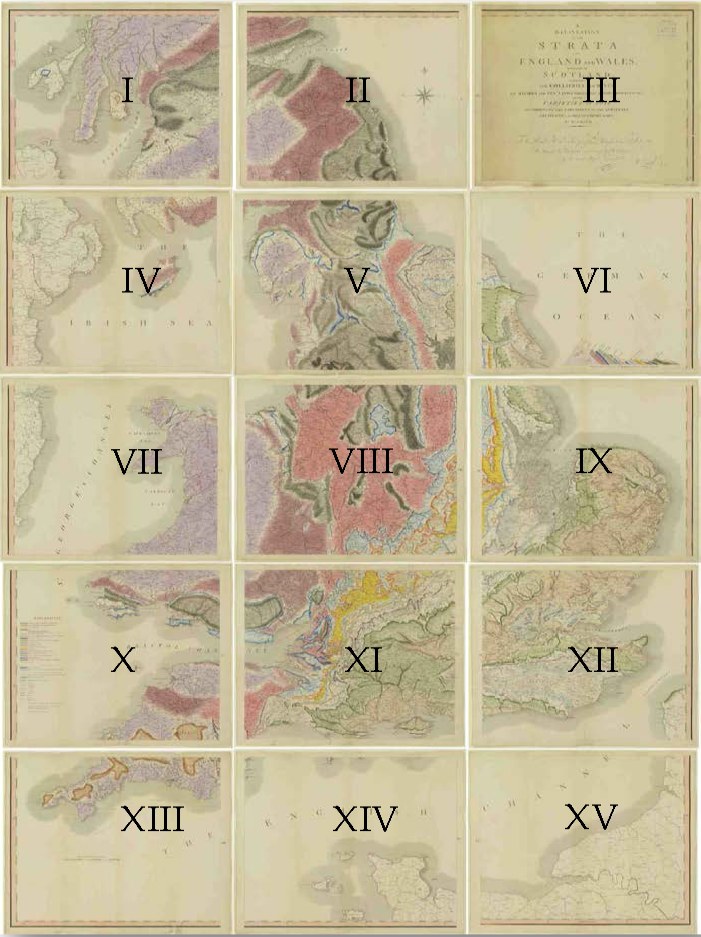 Each map was printed on 15 individual sheets measuring 557 by 645 mm and numbered in Roman numerals from I in the northwest to XV in the southeast (see right). The arrangement of the sheets was shown on a sixteenth sheet, an index map, often referred to as the General Map. Each sheet was printed from an individual copper plate upon which the topography and geological lines were engraved.
The copper plates used to print the map survived until 1877 when they were in the possession of Edward Stanford, the London map seller. He had acquired them by purchase from G.F. Crutchley who had in turn acquired them from the Cary family when they gave up business in 1850. In an attempt to preserve the plates, Professor G.S. Boulger published an appeal in the Geological Magazine for subscriptions to purchase them for the Geological Society. However, the appeal was unsuccessful and the plates were melted down.
Sheet III contained the map title and Smith's dedication to Sir Joseph Banks while Sheet VI contained a small coloured geological cross-section from Snowdon to London.
The overall size of the map is 1835 by 2785 mm.
The printed sheets were hand-coloured by a small group of colourists employed by Cary, and delivered in batches to Smith for his approval at his London house at 15 Buckingham Street, a short distance from Cary's premises on the Strand. Smith numbered each set of fifteen below the cross-section on Sheet VI, and usually added his signature there also. In some cases, the quality of the colouring was not acceptable to Smith and, although numbering the maps, he did not sign them.
On many maps, Sheet III also bears the map number, in the lower left corner, in Smith's hand. This suggests  that having examined each set of sheets, they were stacked with Sheet III on top, and the map number visible in the corner.
Pricing
and

Availability
The original pricing is shown below, the map was also available "Half-bound in Russia, guarded for the Library" for £6 12 0. "Half bound" means the spine and corners are covered with "russia" – this word should not have been capitalised as it is a process, not a proper noun. This binding material and technique is Russian in origin, hence its name, and was originally reindeer skin tanned in vats of birch oil. The process was adopted exclusively by the British in the 18th- century (although some Scandinavian and German bindings used this process), and it is extremely common to find it on books in any British library from this date. Obviously, because of the absence of reindeer in Britain, calf skin was generally substituted. The binding is a very pleasant light reddish-brown colour, and has a distinctive (not unappealing) smell. The leather tends to be decoratively diced, but not exclusively. Unfortunately, unless the bindings are regularly dressed, it has a distinct tendency to dry out, leading to joints cracking. Therefore most British libraries with russia bindings are either in poor condition or the spines have been rebacked (often with standard calf). "Guarded" means that the maps have been mounted on stubs, also known as "guards". The problem with any double-page map or plate is that when bound, the reader loses information in the gutter. If the double-page map or plate is attached to a guard, usually by gluing along the centrefold, then the whole image can be opened without any loss.
At least one atlas in this format shows that the sheets were folded immediately after colouring while the colour was still wet as it has transferred from one side to the other.
The fifteen loose sheets, with the general map, were also often bound as atlases with the sheets flat, probably by their purchasers.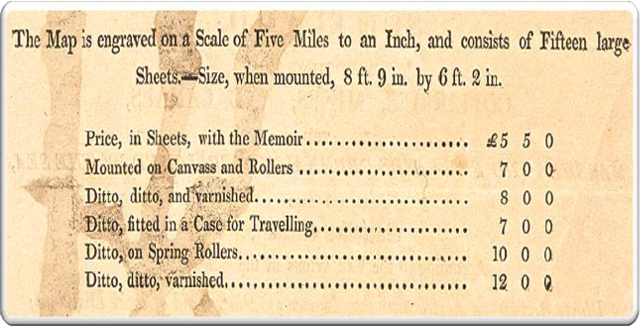 Numbering of Smith's maps
Smith began numbering his maps from 2 November 1815, although about 20 unnumbered and unsigned maps were issued before this. Between 2 November and 17 December 1815, as he received them in batches from Cary, Smith numbered his maps 1 to 100. On 17 December he then began numbering a series a1 to a100, completing that set on 23 January 1816 when he began numbering a set b1 to at least b75. In addition to the early unnumbered and unsigned series, there is a late series of unnumbered and unsigned maps probably dating from mid-1816 onwards. Most of the numbered maps also carry Smith's signature. However, in some cases Smith was unhappy with the standard of the colouring and these, it appears, he did not sign.
A 1938 survey of Smith's 1815 map, carried out by Joan and Victor Eyles, added reference letters to the unnumbered early (A to D) and late (Y to Z) series maps. The Eyles' survey is currently being updated and extended by Tom Sharpe who has added additional unnumbered maps of both the early and late series to the Eyles' original list.